There are many reasons to hire a professional pressure washing company like Complete Power Wash.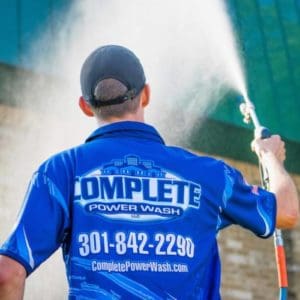 This is the time of year that many homeowners are completing household projects. Some think that power washing their home under the summer sun is a great idea. Many find out that they are wrong. Other people hire Complete Power Wash, because we are a professional pressure washing company. Many of those same people hire us again in the future, because they know it is worth the investment in having a clean, healthy home.
Keep reading to discover the pros of hiring Complete Power Wash in Hagerstown, MD, as opposed to the alternatives.
The Good of Hiring a Professional Pressure Washing Company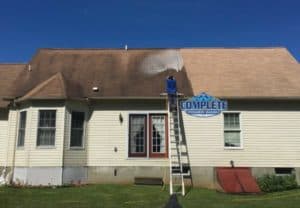 Our techs use and know how to operate professional pressure washing equipment. Various building materials need to be cleaned the right way. An inexperienced tech or a homeowner wanting to save money may THINK they know how to clean. However, this can lead to damage that will cost a lot more than hiring a professional pressure washing company. Blasting into siding, wood, brick and concrete are real possibilities when amateurs work with high-pressure tools. Just consider how much money you WON'T save if you have to replace portions of siding or deck boards.
Safety
Safety is another BIG reason to hire a Complete Power Wash tech. Ladders, water pressure and wet surfaces can be a dangerous combination.  Our techs take the precautions. If our tech gets hurt, we will take care of our employee. If a homeowner or an uninsured novice gets hurt, it's a different story. Pain, suffering and being out of work will cost a lot more than hiring us to wash your Hagerstown-area home. Click here to read more about pressure washing injuries.
NOTE: Beware of the novice who bought a pressure washing unit and the ink is still wet on his business cards. He – or she – may undercut the professional's price, but property damage and lawsuits are not ways to pinch pennies.
Softwash
Pressure washing isn't about power washing. If you've heard the phrase, "Less is more," it applies here.
Our techs are trained on the best way to clean every surface. It is rare to use intense water pressure to clean a home's exterior. We use the softwash technique to combine the right pressure and the right gentle detergent to get the best result. These detergents are gentle on your home and on your landscaping. Most people think you have to blast away away algae, dirt, grime, stains and other elements that make your property ugly. This is not true and should be a red flag about those knocking on your door with a "sudden opening in the schedule."
Results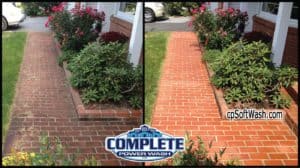 You want your house looking better than before the pressure washing work was done. Certainly no one wants damage to their home and everyone wants great results. Otherwise, why spend time and money on the job in the first place?
Pressure washing is a messy job. Professional pressure washing techs know how to clean and clean up a property to leave it looking spotless. A clean home and few water puddles should be the expectation. DIY pressure washers and fly-by-night novices are often dumbfounded when dirt and grime are just moved, instead of REmoved.
The Bad and The Ugly of NOT Hiring a Professional
Perhaps the best argument to hire a professional cleaning company are the top ways an amateur can cause more harm than good. Getting water inside the exterior walls can lead to mold, mildew and other harmful elements, which can cause health hazards. Broken windows, gouged wood, chipped paint, and scarred walkways and driveways round out the top "bad outcomes" from pressure washing equipment in the wrong hands.
Contact Complete Power Wash in Hagerstown, MD
Contact us here, call our Hagerstown, MD office at 301.842.220 or email us at sandy@completepowerwash.com.
Click here to see a gallery of our pressure washing work in the greater Hagerstown, MD area. We also serve most of Frederick County, MD. Our pros also clean residences and commercial buildings in nearby Greencastle, PA and Martinsburg, WV.