Contact for Answers to Your Pressure Washing Questions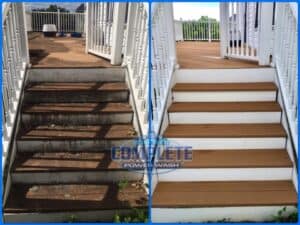 Contact us below for answers to your pressure washing questions. We love educating client and potential clients about why our softwash technique is the BEST pressure washing approach.
Complete Power Wash is a professional pressure washing company. Our techs serve the greater Hagerstown, MD area, including parts of West Virginia and Pennsylvania. Click here to read about our owners, experience and service area.
Ready for an estimate? Jump over here and provide us with some information that we'll need to give you an accurate estimate for your pressure washing experience.
Our Pressure Washing Services
Among the residential pressure washing services offered by the Fields are siding cleaning, roof cleaning, deck and patio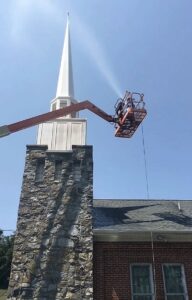 cleaning. Beyond this, they will entertain special washing projects, and are even trained in commercial and industrial power washing. They even clean church steeples.
If you would like to see a gallery of our work, click here.
Working During the Coronavirus Pandemic
We are pressure washing homes and businesses during the Coronavirus (COVID-19) pandemic. We are following local guidelines and will make sure to take every precaution, because we want to keep everyone safe. If you have questions, please contact us here or call our office phone (301.842.2290).
Pressure Washing Customer Testimonials
"Very professional, prompt, and thorough. I didn't realize how dirty our house, roof, and sidewalks were until Complete Power Wash cleaned them all!"      – Jennifer H.
More Pressure Washing Customer Testimonials
"Amazing customer service! I hired Complete Power Wash and crew for my relatives house wash and the results were amazing. Communication and customer service is key, and they went above and beyond. I will definitely use them again."   – Joe D
"Our dirty roof was gross! It ruined the whole exterior appearance of our home. Immediately after you treated it, the roof looked like new… nice and clean! Thanks for doing such a good job.."   – Sue M.
"Great job! Professional service. The house looks brand new."  – Terry M.