Commercial Pressure Washing
Commercial Pressure Washing Services to Keep Your Business Clean
Complete Power Wash's commercial pressure washing service keeps businesses clean and inviting to customers. CPW's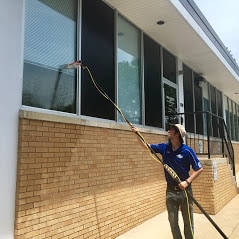 cleaning professionals know the best and safest ways to clean brick, siding, concrete walkways, roofing and more. They clean retail storefronts, commercial buildings, industrial locations, apartment complexes, etc….
CPW's team is among the best in cleaning businesses in the area. Click here to read the expert cleaning advice in the  Complete Pressure Washing Blog posts. The CPW techs do softwash pressure washing in the Tri-state area of Maryland, West Virginia and Pennsylvania.
Let's Create Your Before & After!
The Complete gallery of Before & After pictures tells the story. Let us get your location ready for business. Call us today with the details of your commercial pressure washing job in the greater Hagerstown, MD area. We also provide service in Martinsburg, WV and Waynesboro and Greencastle, PA.
The CPW Pressure Washing Service Area
Complete Power Wash serves the entire Tri-state area. In Maryland, our technicians travel to Hagerstown, Clear Spring, Hancock, Smithsburg, Boonsboro and Myersville. In nearby Pennsylvania, we clean businesses and residences in State Line, Greencastle and Waynesboro. In the Panhandle of West Virginia, we serve those in Falling Waters and Martinsburg. Call our Hagerstown, MD office at 301-842-2290 to schedule an appointment.
Working During the Coronavirus Pandemic
We are pressure washing homes and businesses during the Coronavirus (COVID-19) pandemic. We are following local guidelines and will make sure to take every precaution, because we want to keep everyone safe. If you have questions, please contact us here or call our office phone (301.842.2290).
Pressure Washing Testimonials
"Our dirty roof was gross! It ruined the whole exterior appearance of our home. Immediately after you treated it, the roof looked like new… nice and clean! Thanks for doing such a good job.."   – Sue M.
"Great job! Professional service. The house looks brand new."  – Terry M.
Our Pressure Washing Services
Among the residential pressure washing services offered by the Fields are siding cleaning, roof cleaning, deck and patio cleaning. Beyond this, they will entertain special washing projects, and are even trained in commercial and industrial power washing. They even clean church steeples.
If you would like to see a gallery of our work, click here.
To read our expert advice on pressure washing in the Tri-state area of Maryland, West Virginia and Pennsylvania, click here to read our Complete Pressure Washing Blog posts. Click here to read reviews posted on our Facebook page.
Click to see larger images.