Artillery Fungus is a tough foe for homeowners and pressure washing professionals.
The Complete Power Wash cleaning techs have the expertise for nearly every tough element that make Hagerstown, MD-area properties ugly. These elements include mildew, moss, dark-colored streaks and stains. This also includes the build up of grime on a house, deck, sidewalk, fence, etc…. But the small black dots found on siding this time of year are nearly impossible to remove. Artillery Fungus — sometimes called Shotgun Fungus — are spores that launch from the ground onto exteriors walls. Once those spores harden, it will take time and a hand tool to remove them. It is a tedious task.
"What are the Black Dots Covering My Siding?"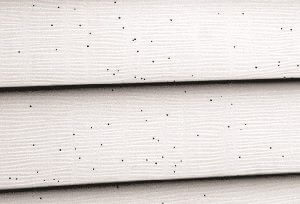 Shotgun fungus originates in mulch and it is undetectable until it starts to "bloom." And since homeowners love to add to landscaping accents this time of year, the following advice will go a long way towards avoiding frustration. The fungus' name is derived from the Greek word for "spear thrower," as it indicates how the spores are propelled onto a home's siding from contaminated mulch. The launch can spray up to 20 feet high. The spores are extremely adhesive and will stick to any surface. The positive is that the spores are not harmful to building materials.
"What can I do about these black dots?" is a common question by homeowners. Once you're asking it, it's probably too late. The best thing is prevention, meaning, you should inspect your siding right after the mulch is put down. Since most people add mulch to flower beds in spring, this is when to keep a close eye on the walls close to the new mulch. If you see a few black dots, remove the mulch immediately and clean the walls with soap and a soft scrub brush. The mulch should be moved away from the house or other structures for at least two weeks. That is the duration of the 'shooting season."
There are no proven treatments to kill this fungus. The fungus can be found in the cheapest and most-expensive mulch on the market.
Contact Complete Power Wash for Spring Pressure Washing
Contact the Complete Power Wash office to schedule a pressure washing appointment. You can do so by clicking here, call 301.842.220 or email sandy@completepowerwash.com.
The CPW techs are the local pressure washing experts in house washing, roof cleaning and deck and patio cleaning. They use the softwash technique of gentle water pressure and environmentally-friendly detergents. Softwash is the safest way to pressure wash, guaranteeing no damage to your home or property.