Contact us now to schedule a pressure washing appointment before the holidays, and your guests, arrive.
"It's the most wonderful time of the year…" is the lyric from one of the most-beloved Christmas songs. However, for those hosting holiday guests, it can also be the most stressful time of the year. And that's the norm, even when there isn't a global pandemic that makes everything even more stressful. But we at Complete Power Wash in Hagerstown, MD want to help ease some of that anxiety. While you focus on the meal and holiday decorations, we'll get the exterior of your home ready to receive and impress your guests.
Right now is a great time to step out and access your home's outward appearance. That is, right after you finishing ready this pressure washing blog post.
Is your siding, roof, gutters, deck and sidewalks clean and fresh or dirty and scary, as though it's decorated for Halloween? Wouldn't it be great if those surfaces were clean, sparkling like the lights on a Christmas tree?
The Complete Power Wash cleaning techs still have a few openings on the schedule between now and Thanksgiving. If you're not hosting people until Christmas, don't wait on contacting us, because other customers and the weather can quickly crunch our time in December. You can schedule a cleaning appointment easily by clicking here.
Softwash is the Best, Safest Way to Pressure Wash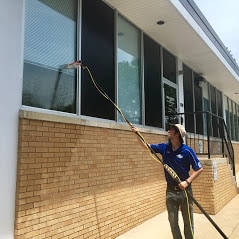 Complete Power Wash techs will use the softwash method to clean your home for the upcoming holiday season. Softwash is the perfect balance of water pressure and environmentally-friendly detergents. Blasting away dirt, grime and stains can easily damage surfaces. Intense water pressure can scar and cause costly damage to even the hardest building materials.
Our techs use softwash while serving residents and businesses throughout the Tri-State (Maryland, Pennsylvania and West Virginia) area. Those areas include Hagerstown, Hancock, Clean Spring, Boonsboro, Smithsburg, Myersville and Funkstown in Maryland. In Pennsylvania they travel to Greencastle, Waynesboro and State Line.  Our West Virginia cleaning service areas include Falling Waters, Inwood and Martinsburg.
Pressure Washing Testimonial
"The crew from Complete Power Wash did an excellent job on our roof and siding. So nice to come home to a clean house! Great people to work with!" – Barry M.
Schedule a Pressure Washing Appointment
If you would like to experience the kind of pressure washing service that these customers enjoyed, contact the Complete Power Wash office in Hagerstown, MD. Contact us here or call us at 301.842.220. Our email address is sandy@completepowerwash.com.
Our Pressure Washing Services
Complete Power Wash pressure washing techs are experts in roof cleaning and deck and patio cleaning. They are also trained in commercial and industrial power washing.
To see a gallery of our pressure washing work in the greater Hagerstown, MD area, click here. Our pros also clean residences and businesses in nearby Greencastle, PA and Martinsburg, WV.