Pressure washing testimonials from Complete Power Wash's satisfied customers tells the story of their business.
A fair wage for a good days work is enough for some businesses. When it comes to paying the bills, that is technically true. However, when you care about the customer AND exceeding their expectations, there is another level to be reached. For the pressure washing professionals at Complete Power Wash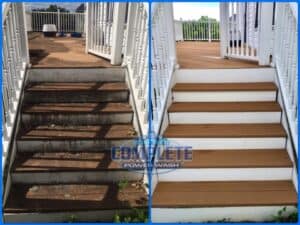 in Hagerstown, MD, that level includes great words from happy customers.
They are grateful that the customers listed below trusted them to do good work and then took time to tell them about it. The CPW technicians hope for the chance to serve them and lots of new customers in 2023. They also hope readers feel compelled to go to the Complete Power Wash Facebook page and leave a nice comment. Additional CPW reviews can be read at this link.
Complete Power Wash Pressure Washing Testimonials
"Great job! Professional service. The house looks brand new."

– Terry M.

"Complete Power Wash is a professional, experienced, and trustworthy company. Tim and his staff are very informative, knowledgeable and guarantee 100% satisfaction. Look no further than Complete Power Wash for your next exterior cleaning service!" – Jake A.

"The crew from Complete Power Wash did an excellent job on our roof and siding. So nice to come home to a clean house!" – Barry M.

"They did an awesome job cleaning my entire townhouse! I highly recommend this company and will definitely use them again in the future!" – Regina C., Hagerstown, MD

"They cleaned our home. We are completely satisfied and will differently be using them again!" – Kyle H.
CPW's Pressure Washing Services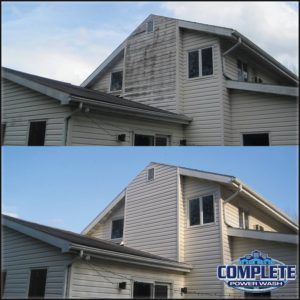 Complete Power Wash techs are the local pressure washing experts in house washing, roof cleaning and deck and patio cleaning in the Tri-state area. They use the softwash technique of gentle water pressure and environmentally-friendly detergents. Softwash is the safest way to pressure wash, guaranteeing no damage to your home or property.
This is important when the surface could be damaged, because strong water pressure and inept technique are the wrong combination. This is often the problem with residential equipment and inexperienced operators.
Contact the Hagerstown office for a 2023 Pressure Washing Appointment
If you would like to experience the kind of pressure washing service that the customers listed above enjoyed, contact the Complete Power Wash office. Click here, call 301.842.220 or email sandy@completepowerwash.com.
Click here to see a gallery of CPW's pressure washing work in the greater Hagerstown, MD area, and a large portion of Frederick County, MD. The professional pressure washers also clean residences and commercial buildings in nearby Greencastle, PA and Martinsburg, WV. They are also experts in industrial power washing.