Cleanliness is next to godliness and that goes for the church building's most hard-to-reach places.
One of the hallmarks of the greater Hagerstown, MD area is the church steeples that line the main streets and peak over the tree-lined highways. Every town has several steeples that have been there for decades. The city of Frederick, MD is even a destination for many just to the view the cityscape of clustered spires. But sometimes the beauty of these landmarks lies deep beneath of filth that naturally builds up over time.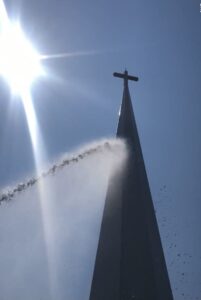 Complete Power Wash takes pride when called upon to help return one of these houses of worship to its original glow. CPW techs use the softwash technique to remove dirt, fungi and other natural elements. Softwash is the use of gentle, environmentally-friendly detergents and low water pressure.
While many homeowners have seen this technique work wonders, church building committees may not be aware about the best way to do exterior cleaning. Lowest bids rarely take into account pressure washing mistakes that lead to costly repairs. Saving a few dollars could lead to damaged roofing materials and the softer metals, sometimes found in steeple construction.
Contact us About Steeple Cleaning
Click here to contact us to schedule a steeple and/or church roof cleaning. Call (301.842.2290) or email (sandy@completepowerwash.com) us with any questions. We enjoy educating people on why Complete Power Wash is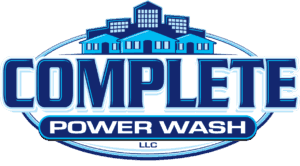 the best choice for pressure washing.
Complete Power Wash does steeple cleaning — and general pressure washing — throughout the entire Tri-State area of Maryland, West Virginia and Pennsylvania. This includes (in Maryland) Clear Spring, Hagerstown, Hancock, Funkstown, Williamsport, Smithsburg, Sharpsburg, Myersville, Brunswick, Boonsboro, Keedysville, Middletown, and Burkittsville. In West Virginia we serve the communities of Falling Waters, Marlowe, Martinsburg, Berkeley Springs, Hedgesville and Shepherdstown. In Pennsylvania, we serve State Line, Greencastle and Waynesboro residents and businesses.