August is National Family Fun Month. You enjoy your family while we pressure wash your Hagerstown, MD-area home.
Many of the local schools get back in the classroom this week. That's not exactly the best way to start a post about National Family Fun Month. However, there are plenty of fun ways to close out the summer even when school districts insist on on back-to-school activities being during the hottest month of the year. It might be hard to take an extended trip, but there are plenty of weekend and evening hours to enjoy family time.
The staff at Complete Power Wash in Hagerstown, MD enjoy fun as much as anyone in the Tri-state area. They also enjoy their work, because transforming a house from dirty to clean is what gets them up and going every day. There is only one thing they like more than just cleaning properties. They like pressure washing homes when they know homeowners are having a good time! It only adds to the enjoyment when they know the family's fun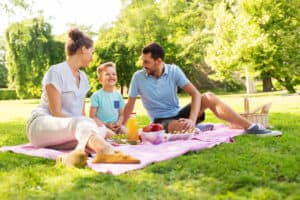 day will be capped off when they see their home restored to it's former beauty.
Below are a list of great ideas to do before families say "goodbye" to the long summer days of 2022.
To celebrate, you may want to :
Watch a movie in the backyard
Take an overnight camping trip to a local campground
Take a day trip to nearby town or city
Go out for ice cream
A picnic and play games in a local park
Enjoy a backyard campfire
Take a family bike ride
Visit the closest zoo
Go fishing
Click here to read another web page that lists all the fun things to do in Western Maryland.
Complete Power Wash's Cleaning Services
What is it that is taking the shine away from your home? Is it black or green streaks on the roof? Is it algae on one or more exterior walls? Are the walkways and deck boards a color that's nearly indescribable?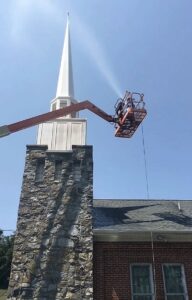 The CPW techs can take care of those issues and more with our Softwash method of safe cleaning detergents and gentle water pressure. Complete Power Wash services include washing houses, roofs and deck and patio cleaning. CPW pressure washing techs are also trained in commercial and industrial power washing. Click here to see CPW's gallery of pressure washing work. The tech's serve the greater Hagerstown, MD area and most of Frederick County, MD. They residences and commercial buildings in nearby Greencastle, PA and Martinsburg, WV.
Contact the Complete Power Wash office here or call 301.842.220. You can also email sandy@completepowerwash.com.
Pressure Washing Testimonials
"Outstanding from initial call to completed service. The best service business experience I have ever had." – Brian S.
"Great job! Professional service. The house looks brand new." – Terry M.
"These guys absolutely rock! Top notch work, excellent communication, and friendly too. Thank you for everything!" – Stanley H.