We say "Thank you" to all of the military veterans for your service to our country.
Did You Know: Originally, Veterans Day was called "Armistice Day." The holiday was created to commemorate the signing of the armistice with Germany that ended the first World War. The focus of Armistice Day was on the veterans of that war, though it was always meant to honor all veterans of foreign wars. It was to honor those who risked their lives on the battlefield to secure the freedoms of all Americans.  
During the holiday's inception, Congress also made November 11th a day of prayer and thanksgiving. The legislators also expressed a desire that the U.S. flag be on display during this day and that special ceremonies be held. Finally, in 1938, Armistice Day became a permanent, official public holiday. Over time, with the passing away of the World War I generation, the focus on the 1918 Armistice was lost and the name of the holiday was changed. Today, Veterans Day is generally regarded as honoring all those who have served in the U.S. Armed Forces, rather than only those who actually fought.
"The willingness of America's veterans to sacrifice for our country has earned them our lasting gratitude."     — Jeff Miller
Contact Complete Power Wash for Pressure Washing in November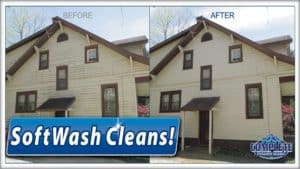 If you need our pressure washing services in November, please contact us by clicking here. You can also call our Hagerstown, MD office at 301.842.220 or email us at sandy@completepowerwash.com.
Our cleaning techs us the softwash technique. Softwash is the perfect combination of gentle detergents and the right water pressure. This is crucial to make sure no damage is done, because too much pressure from a power washing unit can be costly.
Our Pressure Washing Services
Complete Power Wash pressure washing techs are experts in house washing, roof cleaning and deck and patio cleaning. They are also trained in commercial and industrial power washing.
We pressure wash houses and businesses throughout the Tri-State area. That area includes Hagerstown, Clean Spring, Boonsboro, Smithsburg and Funkstown in Maryland; Greencastle, Waynesboro and State Line in Pennsylvania; and Falling Waters and Martinsburg in West Virginia. To see a gallery of our pressure washing work in the greater Hagerstown, MD area, click here.