The softwash technique is the best way to safely clean a house or commercial building
"Grime needs to be blasted away!" is what you will here from some pressure washing "professionals."
DO NOT listen to these so-called professionals.
Most people — including fly-by-night pressure washers — think the best way to pressure wash is to use high-powered water pressure, because it is tough cleaning. The problem is, the grime and part of your surface usually leave together. If you don't believe us, just look at the photos in this article.
Pressure washing damage can be costly, because replacing building materials is never cheap.
Softwash is the technique most true pressure washing professionals use on even the toughest buildup. The professionals at Complete Power Wash in Hagerstown, MD are trained in the best way to use softwash. Our techs use "just the right water pressure," combined with gentle, environmentally-friendly detergents. These detergents are used to weaken the grip of dirt, mold, mildew and other natural elements. Once the detergent takes affect, the technician can gently wash away the grime. We can even remove graffiti.
Softwash also limits the mess that most amateur power washing companies leave behind. The homeowner does not want to pay good money and have more of a mess.
Blasting Away Pressure Washing Problems
The most-costly damage done by inexperienced technicians is done to shingles and other roofing materials. This damage can be during the job and even later, because damaged shingles can shorten the life of a roof, which can allow rain, sleet and snow to seep in and damage the wood sheathing. Moisture in an attic can lead even bigger problems. The integrity of the roof — except for a home's foundation — is the most important part of the exterior structure.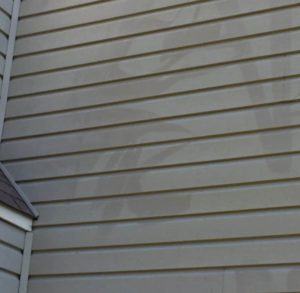 Other common mistakes in the pressure-washing world include the scarring of wood, concrete and siding. Even brick can be ruined by an amateur. Commercial pressure washing and personal use machines have enough concentrated power to blast into decks and driveways. Once lines are carved into such materials, a professional will likely have to fix the damage.
And imagine what happens when that kind of water pressure is used on vinyl siding. Often the damage is not just seen on the outside, but felt under the covering. As the water pushes on the flexible material, it can find its way in the gaps and seams of the siding. Then the water is trapped between the siding and home's outer wall. This can be a perfect scenario for mold and mildew to take hold, which can cause lots of costly problems, including poor interior air quality. This can trigger asthma and other respiratory problems.
Our technicians are trained to pressure wash your home the right way. When they finish a job, everything looks better and the environment left healthy. And, our techs leave the grounds clean and tidy. To schedule a
Contact Us
To schedule a FREE estimate and appointment during the busy fall season, just click here. You can also call our Hagerstown, MD office at 301.842.2290.

Softwash Service Area
Our techs will be working this fall throughout the greater Hagerstown, MD area, including Boonsboro, Clear Spring, Myersville, Maugansville, Keedysville, Williamsport, Funkstown, Hancock, etc… We also serve most of Frederick County, MD. Our pros also clean residences and commercial buildings in nearby Greencastle, PA and Martinsburg, WV. Call 301.842.2290 or contact us today for a free estimate.
To see a gallery of our pressure washing work in the Greater Hagerstown, MD area, click here.