What are your New Year's Resolutions for 2019? We hope it includes hiring a quality pressure washing company like Complete Power Wash to power wash your home and property into like-new condition.
So, what changes are you planning to make this year? Do you plan to lose weight; go back to school; get a new job; etc…? These are all great resolutions, but we would like you to consider some others that we can help you keep.
Resolve To…
This year, resolve to hire our techs to pressure wash the grime and harmful elements from your roof. These dark patches are not only unsightly, but are doing damage to the life of your roofing materials. This will mean a shorter life span for shingles and rubber roofs. This translates into spending thousands of dollars on a new roof sooner than you would need to because of lack of care.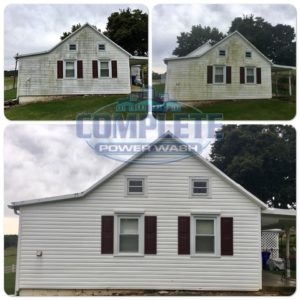 This year, resolve to have your home pressure washed. Whether your home is made of brick, stucco, vinyl, etc…, the harmful elements that attack your roof, can attack the exterior walls and foundation. These cleanings should include cleaning the gutters, inside and out. In fact, most of this buildup is due to clogged gutters, because a clogged gutter is an overflowing gutter.
And, because water that runs down walls finds its way inside of your home, it will lead to air quality issues and health risks for you and your family.
This year, resolve to have your yard pressure washed. Well, not the grass, but the sidewalks, decks, fences and anything else that can be cleaned with our softwash technique. Our techs will use gentle detergents and gentle water pressure to thoroughly clean what needs to be cleaned. This can include the removal of graffiti, because this is no easy task for a homeowner.  Our techs will do it the right way, WITHOUT damaging the surface.
Our pressure washing experts are also trained to power wash commercial buildings. These properties present unique challenges. To read more and see images of our commercial pressure washing work, click here.
And remember, if you are thinking of selling your home this spring, curb appeal is the first impression in the buying and selling process. Potential buyers may not make a final decision to purchase based on their first impression, but if they like what they see, the agent does not have to get them past that hurdle.
Contact Us
If you would like us to help you with your resolution to pressure wash your home in 2019, contact us by clicking here. If you prefer to talk to us, call our Hagerstown office at 301-842-2290. Our techs work throughout the great Hagerstown area, including Boonsboro, Clear Spring, Myersville, Maugansville, Keedysville and Frederick County, MD.