We Wish You a Merry Christmas and a Happy New Year!
All of us at Complete Power Wash hope you and your family have the happiest of holidays and a new year that is filled wit
h good health and prosperity the whole year through. We hope this special time of the year is filled with the peace, comfort and joy that was meant to accompany this celebration of the birth of Christ and a new start in the new year.
We look forward to spending time with our families during the break, but also look forward to serving you again when better weather returns to the Tri-state area of Maryland, Pennsylvania and West Virginia in the spring. So if you are already looking at your home and thinking, "I really need to power wash the ____________________," please call us soon to get on our early 2018 schedule. In the meantime, please hope and pray for a short winter and an early spring.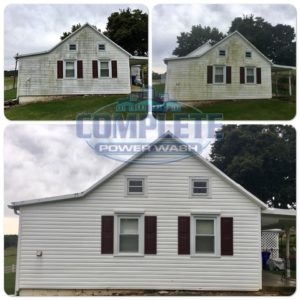 When you do make the decision to hire a professional pressure washing company, please consider our techs, who are fully trained in using the softwash approach of gentle pressure combined with environmentally-friendly detergents. This technique gets the surface clean without the risk of damage.
You can
contact us
online or call our Hagerstown, MD offices at 301-842-2290. Complete Power Wash technicians travel throughout the Tri-state in the following zip code areas:
Big Pool MD 21711 | Boonsboro MD 21713 | Brownsville MD 21715 | Cascade MD 21719 | Cavetown MD 21720 | Chewsville MD 21721 | Clear Spring MD 21722 | Fairplay MD 21733 | Funkstown MD 21734 | Gapland MD 21779 | Hagerstown MD 21740 | Hagerstown MD 21742 | Hancock MD 21750 | Keedysville MD 21756 | Maugansville MD 21767 | Rohrersville MD 21779 | St. James MD 21781 | Sharpsburg MD 21782 | Smithsburg MD 21783 | Williamsport MD 21795 | Falling Waters WV 25419 | Mercersburg PA 17236 | Greencastle PA 17225 | State Line PA 17263