Memorial Day Starts the Summer Season with an Important Holiday to Honor Those Who Have Given Their Lives for Our Country.
Memorial Day weekend is here and so is the unofficial start of summer. Is your home clean and ready for the wave of fun — and possible flood of house guests to the Tri-state area? If the answer is "no," then call us asap to get your roof, siding, walkways, gutters, pool deck and more ready.
Our technicians are busy helping your neighbors with their pressure washing needs, but we do have a few holes in the schedule. Our desire is make sure that when friends and family drive up to your home, they see a welcoming, inviting and tidy place that makes you proud.
Many people wait until the final push of school and/or work is in the past to begin thinking about summer activities. Right now, you have several weeks before the big sigh of relief from the hectic spring. Just think about how much more you will be able to relax knowing the house is in great shape and that you can truly let go and just enjoy the summer months with a freshly power-washed environment that you call home.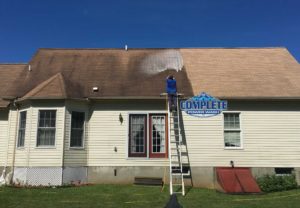 Our techs use the softwash technique to make sure that gentle detergents — and NOT high-pressure water flow — are what wash away the dirt, grime, mold, mildew, etc…, while protecting the vinyl, wood, concrete and other materials that need cleaning.
Contact us at the number below to schedule an appointment today.
Did You Know: Memorial Day is this Monday, May 28, 2018. The holiday originated as Decoration Day after the American Civil War in 1868, when the Grand Army of the Republic, an organization of Union veterans founded in Decatur, Illinois established it as a time for the nation to decorate the graves of those who died in the war with flowers. By the 20th century, competing Union and Confederate holiday traditions merged and Memorial Day eventually extended to honor all Americans killed while in military service.
From everyone at Complete Power Wash, we say "thank you" for all who have served to protect and defend our nation.
If you would like to help cleaning up the outside of your home, contact the Complete Power Wash office in Hagerstown, MD. Our techs are the exterior cleaning experts in Hagerstown and the surrounding Tri-state area of Maryland, West Virginia and Pennsylvania. To contact us about a free pressure washing estimate, call 301-842-2290 or to contact us online, just click here.