The deck is the best place for fall parties. Is your deck ready for family and friends?
September will bring warm days, cooler nights and plenty of daylight to have great outdoor parties. Cookouts, outdoor movies and relaxing by the fire pit are some of the best fall gatherings. Those days are approaching quickly. Complete Power Wash's pressure washing schedule is filling up nearly as fast.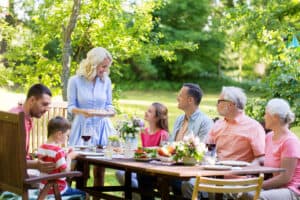 Now that you know the calendar is about to flip, go look at your deck or patio and make a note of what you see. 
Does your deck or patio have ugly stains that you've ignored all summer? Is it green or black where it shouldn't be green or black? If the answer is "yes" to either question, know that these dark areas can be more than than just unsightly. The real problem will come in a few years. Those stains can lead to damage and possibly cause health concerns, because they are caused by harmful elements. Those elements cause rot and can trigger respiratory issues.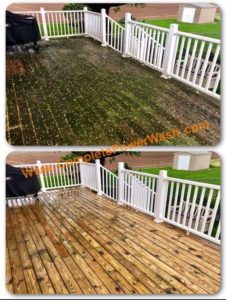 Professional pressure washing can safely remove those stains and the contaminants that cause them. The Complete Power Wash techs are trained to do it the right way. CPW employs the top pressure washing experts in the greater Hagerstown, MD area.
The average lifespan of deck materials is between 15 and 20 years, but natural elements can take years off that expectation. Patio cleaning is important too, but more because of appearance. Hardscape that is professionally cleaned can look beautiful again. The temporary stains, if ignored too long, can become permanent. Rotting deck boards or terminally ugly hardscape both lead to costly replacement bills. And, no one wants to spend thousands of dollars on an outdoor living space, because of neglect.
Pressure Washing is the Solution for Ugly Decks and Patios
The pressure washing experts at Complete Power Wash have years of training in the proper cleaning of decking and hardscapes materials. And you can't just "blast away" grime. Patio blocks can break under intense water pressure and concrete can easily scar.
Don't hire just anyone who claims to have a "pressure washing business." Amateurs with a business card can do a lot of harm and disappear quickly with your hard-earned money. Just look at this photo ——–>.
Complete Power Wash's pressure washing experts use softwash, because it ensures that your deck or patio will be cleaned safely and thoroughly. Softwash is a combination of gentle water pressure and environmentally-safe detergents. This approach is the best for safely cleaning wood, composite decks and patio materials. The right technique, expertise and products are the best combination to go from ugly to beautiful.
CPW techs will also give you a proper assessment of your other building materials that may be in danger of a shortened life due to harmful element buildup. Click to see how we clean with our house washing and roof cleaning services.
Contact Us for a Pressure Washing Appointment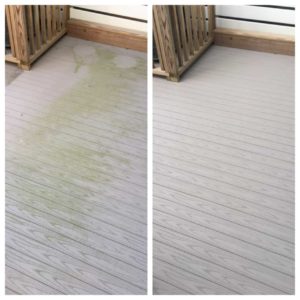 Contact us about a free pressure washing estimate by calling 301-842-2290 or clicking here. Our office email address is sandy@completepowerwash.com. Click on these links to see a gallery of CPW pressure washing work or to read pressure washing reviews.
Complete Power Wash pressure washes homes and businesses throughout the Tri-State area of Maryland, West Virginia and Pennsylvania.