Below are a list of reasons you should hire a professional pressure washing company like Complete Power Wash to clean your home or commercial property.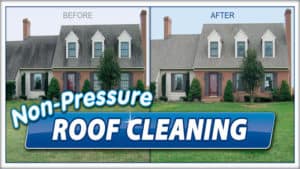 Many people hire Complete Power Wash because we are a professional pressure washing company. Many of those same people hire us again in the future. Do you know why? That's right, because we are professional pressure washing company. What that means is those repeat customers have learned it is better to hire us because of several reasons. Please keep reading and you will likely hire us, because…wait for it….we are a professional pressure washing company!
Reason #1
Our techs know how to operate pressure washing equipment. Yes, you can go buy or rent a residential pressure washing machine, because you want to do the work and save money. We understand that, because we understand many want to
spend money wisely. However, this may not be the wisest way to spend AND most homeowners don't know how to clean various building materials the right way. This can lead to damage that will cost a lot more than the cost of hiring a professional pressure washing company.
Reason #2
Safety is big reason to hire a Complete Power Wash tech. Many people are afraid of heights, and rightfully so. Our techs know how to use pressure washing equipment, while on a ladder, and while working on wet surfaces. If our tech gets hurt, we can take of our employee. If a homeowner gets hurt, it's a different story. Pain, suffering and being out of work will cost a lot more than hiring us to wash your Hagerstown-area home.
Reason # 3
Because pressure washing isn't about power washing. Our techs are trained on the best way to clean every surface. Did you know that it is rare to use high water pressure to clean a home's exterior? We use the softwash technique to combine the right pressure and the right gentle detergent to get the best result. Most people think you have to blast away away algae, dirt, grime, stains and other elements that make your property ugly. This is not true!
Reason # 4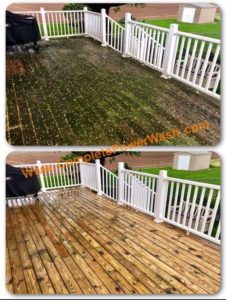 You want your house looking better than before the power washing work  was done. Certainly no one wants damage to their building materials, since decking, roofing materials, gutters, sidewalks and siding are expensive to replace. But cleaning a property and cleaning up in a way that leaves great results is no easy task. Pressure washing is a messy job. Professionals know how to clean and clean up a property to leave it looking almost new again. DIY pressure washers and novices are often astounded that after hours of "cleaning," it just looks like the dirt and grime have been moved around. Don't move it, let us eliminate it!
Reason # 5
Enjoy the time you have! You work hard and should not spend your time on such a big job and your money of renting or buying equipment. We know this sounds like a sales pitch, but for all the reasons listed here, it's hard to argue against hiring a professional pressure washing company.
Contact Complete Power Wash
If you would like to help cleaning up the outside of your home, contact the Complete Power Wash office in Hagerstown, MD. Our techs are the exterior cleaning experts in Hagerstown and the surrounding Tri-state area of Maryland, West Virginia and Pennsylvania. To contact us about a free pressure washing estimate, call 301-842-2290 or contact us online by clicking here.
Click on this link to read our many Google reviews.
Our Service Area
Big Pool MD 21711 | Boonsboro MD 21713 | Brownsville MD 21715 | Cascade MD 21719 | Cavetown MD 21720 | Chewsville MD 21721 | Clear Spring MD 21722 | Fairplay MD 21733 | Funkstown MD 21734 | Gapland MD 21779 | Hagerstown MD 21740 | Hagerstown MD 21742 | Hancock MD 21750 | Keedysville MD 21756 | Maugansville MD 21767 | Rohrersville MD 21779 | St. James MD 21781 | Sharpsburg MD 21782 | Smithsburg MD 21783 | Williamsport MD 21795 | Falling Waters WV 25419 | Mercersburg PA 17236 | Greencastle PA 17225 | State Line PA 17263