Pressure Washing Greencastle
Complete Power Wash Serves Greencastle
If you are a Greencastle homeowner whose property is covered in dirt and grime, you know that getting the place cleaned will be a herculean task. If you were to tackle it armed with a bucket of water, some sponges and detergent, it will take ages to get the job done and even then the results might not be worth the time and effort.
To get round this problem, many homeowners are now investing in pressure washers. Famed for their ability to blast away the most stubborn of household filth with hardly any effort, pressure washers provide a solution that is not only effective but also time-saving. Great as they are however, the use of pressure washers comes with a number of inherent risks unless they are handled by a Greencastle pressure washing professional.
The Risk of Injury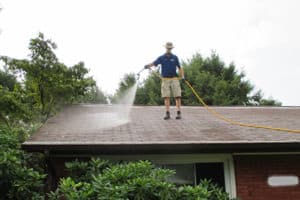 Before buying and using a pressure washer, it is important to remember that every year thousands of people end up with injuries caused by pressure washers. In extreme cases, improper use of these machines has led to death.
Untrained in the proper use of pressure washers, some DIY homeowners have used ladders to help them access hard-to-reach places. Falls from such heights often result in painful injuries and unwanted medical bills.
The most common injuries inflicted are caused by misdirecting the spray. To appreciate the kind of risk that a user is exposed to when using a pressure washer, it is important to remember that some of the machines produce pressures as high as 4,000 psi.
This is an extremely powerful force and if misdirected it can cause severe damage. The pressure is high enough to cut through skin and cause permanent injury. Even worse, the fluid that is released could get lodged in the skin tissue and end up causing a bacterial infection. That is why it is worthwhile to consider using the services of Greencastle pressure washing professionals when carrying out a cleaning job. These service providers have the proper training in handling of cleaning equipment.
Use of inappropriate gear
Untrained in the use of these complicated machines, most DIY cleaners have no idea what they need to wear while cleaning with a pressure washer. Eye injuries are very common, so before starting on a cleaning job, you should obtain a pair of goggles. Also, the shoes you wear should be sturdy enough to protect your feet from a misdirected spray and have sufficient grip to help you maintain balance in case you slip. You must never wear open shoes when using a pressure washer.
Soft washing is ideally the method used to clean roofs for example. While your Greencastle power washing company could use the equipment to clean driveways and patios, it will use a soft washing technique to keep the roof safe. Keeping the roof clean is one sure way of keeping it safe from the myriad of organisms such as algae and moss that age roofing materials prematurely. Through soft washing, Complete Power Wash will remove all the dirt and ensure the safety of the roof. There is enough evidence to show that regular roof cleaning increases the life expectancy of roofs and that it saves homeowners thousands of dollars in possible roof replacement.
Our Pressure Washing Services
Among the residential pressure washing services offered by the Fields family are siding cleaning, roof cleaning, deck and patio cleaning. Beyond this, they will entertain special washing projects, and are even trained in commercial and industrial power washing. They even clean church steeples.
If you would like to see a gallery of our work, click here.
Customer Testimonial
"Amazing customer service. Hired Complete and crew for my relatives house wash and the results were amazing. Communication and customer service is key and they went above and beyond. Will definitely use again." – Joe D.
Click on these links to read my pressure washing testimonials and to see pictures of our work.
Complete Power Wash can clean all of the surfaces around your home, including:
Roof

Sidewalk

Decking, both wood and composite

House and siding

Concrete

And more!
Your home has it. We can clean it.
What We Do
We Clean, Pressure Wash, Restore & Maintain: Buildings I Home Exteriors | Vinyl Siding | Brick | Dryvit | Stucco | Stone | Roofs | Decks | Concrete Cleaning | Aluminum Siding | Soffit | Fascia | Gutter & Downspout | Mold Removal | Restaurants | Drive Thru's | Dumpster Pads | Parking areas | Driveways | Parking Lots | Warehouses | Loading Docks | New Construction | Heavy Equipment | Industrial Equipment | Factories | Condominiums | Townhouses | Apartments | Common Areas | Pool Houses | Clubhouses
What Can We Power Wash Around Your Greencastle, PA Home?
Why is an estimate needed? Every job is unique. In order to provide accurate pricing, it's necessary to review your specific needs, so please provide as much detail as you can. We look forward to speaking with you!