With Thanksgiving three weeks away and Christmas decorations going up soon after that, let's make sure your home is clean inside and out.
The Halloween decorations are now away and plans are being made for Thanksgiving day. The plans, the menu, the football schedule and the shopping plans for Black Friday are starting to come together. It's a busy time, but don't forget to look at your home's exterior to make sure it's presentable for
holiday guests. Is the siding clean? What about the sidewalks, porches and decks? Does your house look more ready for trick-or-treaters — as in being scary — than family and friends? If you run the vacuum, pressure washing pros can handle the outside needs.
The professional cleaning techs at Complete Power Wash in Hagerstown, MD can make your home look almost new again. Contact the office soon to get on the schedule before the Thanksgiving or Christmas holidays. Remember that inclement weather can be an issue, especially in December. Call 301-842-2290 or click here to contact the Complete Power Wash staff online for a free pressure washing estimate.
Click here to see a gallery of Complete Power Wash pressure washing work and here to read reviews.
Good Reasons to hire a Professional Pressure Washing Company
CPW techs expertly use professional pressure washing equipment. Certain building materials need to be cleaned certain ways. An inexperienced pressure washer or a homeowner may THINK they know how to clean. Blasting into siding, wood, brick and concrete seems right to amateurs working with high-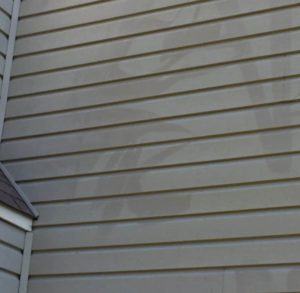 pressure tools. However, this can easily lead to damage, costing significantly more than hiring a professional pressure washing company.
Scaring up the exterior isn't the only damage that can be caused by novices. Getting water inside the exterior walls can lead to mold, mildew and other harmful elements, which can cause health hazards. Broken windows, gouged wood, chipped paint, and scarred walkways and driveways round out the top "bad outcomes" from pressure washing equipment in the wrong hands. Just consider how much money you WON'T save when paying to correct these issues.
Complete Power Wash techs use the softwash cleaning technique. They use "just the right water pressure," combined with gentle, environmentally-friendly detergents. These detergents are used to weaken the grip of dirt, mold, mildew and other natural elements. CPW employs the area's cleaning experts in house washing, roof cleaning and deck and patio cleaning. They also clean businesses and do industrial pressure washing.
Thanksgiving Ideas for Making a Great Holiday Experience
Whether you have hosted Thanksgiving dinner many times or this is your first time, it's always good to get some help. It's a big job to host holiday guests and those welcoming the guests should get to enjoy the day too. Here is an article of 23 tips for a great Thanksgiving experience. Since the holiday is all about the meal, help with recipes is always appreciated. Click on this Delish article for 50 traditional recipes for the day.