Everyone loves the colorful Fall foliage of Western Maryland, but as the leaves drop, dirt and other grime can build up on your home.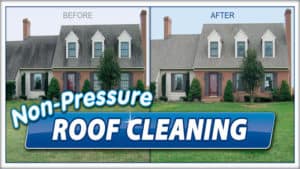 Many people only think about the beautiful parts of Fall. They think about the colors — although this year has not been great; the cool temperatures; corn fields and mazes; and pumpkin spice everything. But what most aren't thinking about is the dirt that is falling on their roof, the debris jamming up the gutters and the rotting leaves laying on the shingles, where moisture will be trapped all winter long.
The leaves and the dirt can be easily cleaned by Complete Power Wash technicians trained to use the "softwash" technique. This is a professional cleaning technique using gentle water pressure and environmentally-friendly detergents. This is perfect for cleaning thoroughly, without the threat of damaging surfaces, especially shingles, gutters and other parts of a home's protective exterior.
Some homeowners may notice leaves on the roof or in gutters, but may simply think it is not a big deal or "I'll just clean it up
in the Spring when the temperatures warm up."  If the leaves are left for too long, the moisture can build up and cause algae, which can breakdown shingles. Those black streak are not only ugly, but harmful.
Leaves, sticks and acorns are also the perfect recipe for causing water backups in gutters. This can lead to mold issues behind siding, affecting interior walls and causing health problems for those living inside.
If you would like to schedule us to clean your home after the last leaf has fallen — or at least before the first snowflake falls — please contact us by clicking here.
Complete Power Wash techs serve residents and businesses throughout the Tri-State (Maryland, Pennsylvania and West Virginia) area, including Hagerstown, Clean Spring, Boonsboro, Smithsburg and Funkstown in Maryland; Greencastle, Waynesboro and State Line in Pennsylvania; and Falling Waters and Martinsburg in West Virginia.