Commercial buildings get dirty and ugly and reflect on a company's image.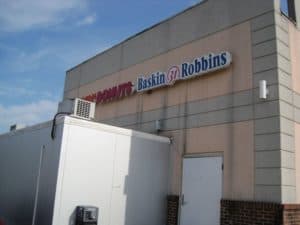 Businesses have reputations. Those reputations are built on image and customer relations. Much of that image is found in the physical location the company calls home. An online business has to make sure everything looks good and works on its website and a bricks-and-mortar business has to make sure the façade is clean and inviting.
Clean bricks, walkways, signs and windows are the perfect way to invite new customers into your showroom. People make judgements in fewer than three seconds. Make sure they want to come in and have a great experience from the fourth second forward. Existing customers also like to enter through a clean entrance.
"If you don't have time for your current customers, your current customers won't have time for you." — Brian Fanzo
Softwash Cleans Your Commercial Building Safely
Most people think the best way to clean through pressure washing is to use high-powered water pressure and blast away the dirt and grime. While this can work, it will often blast away part of the surface too. This can be costly, because replacing building materials is never cheap.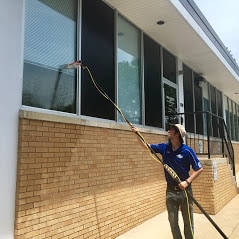 Softwash is the technique of using "just the right water pressure," combined with gentle, environmentally-friendly detergents. These detergents are used to weaken the grip of dirt, mold, mildew and other natural elements. Once the detergent takes affect, the technician can gently wash away the grime.
The most-costly pressure washing damage is done by inexperienced technicians. Common mistakes in the pressure-washing world include the scarring of wood, concrete and siding. Commercial pressure washing equipment and personal use machines have enough power to blast into the hardest of building materials, not to mention flesh and bone. Once lines are carved into driveways, bricks, fences, etc…, a building professional will likely have to fix the damage.
Contact CPW to Pressure Wash Your Business' Office or Storefront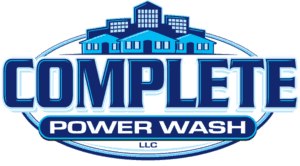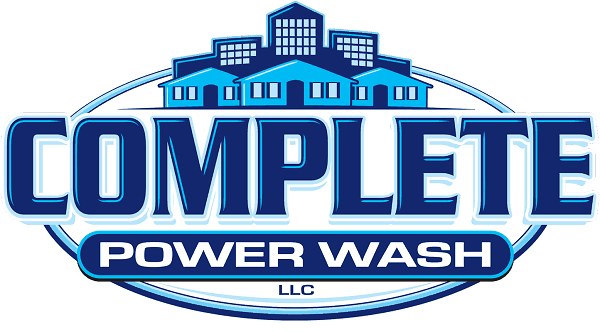 If you would like to schedule the Complete Power Wash cleaning experts to clean your business location, click here. If you prefer to talk to a CPW staff member, call the Hagerstown office at 301-842-2290. The CPW techs serve the greater Hagerstown area and most of Frederick County, MD. They also clean residences and commercial buildings in nearby Greencastle, PA and Martinsburg, WV. The Complete techs also do roof cleaning and graffiti removal.
"Very professional, prompt, and thorough. I didn't realize how dirty our house, roof, and sidewalk were until Complete Power Wash cleaned them all!" – Jennifer H., Hagerstown, MD (5-star review)