Clean gutters are crucial for keeping water and harmful elements away from your home.
April showers mean May flowers.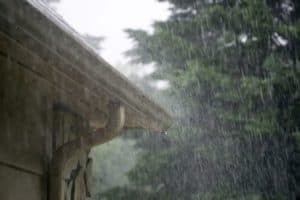 This adage is true, even though clean gutters are not mentioned in the equation. However, add in clogged gutters and it changes, because the water can't flow away from the house. Now, instead of May flowers, April showers brings mold, mildew, rotting wood, cracked foundations, etc….
Most people in the Greater Hagerstown, MD area likely never think about their gutters. Many may hear the rain on the roof. Most never think about the amount of water running into the gutter system. They don't think about it, that is, until the water flows over the gutters and down the walls.
However, they will think about it once fungus starts growing and causing other issues, because that's what misplaced water does so well.
Possible Health Problems
The professionals at Complete Power Wash in Hagerstown, MD know how important it is to keep gutters clean. They know that clean gutters are gutters functioning at a high level. This is why they offer gutter cleaning as part of their service. And they take pride in making sure they work correctly, while being a beautiful frame to the house's physical appearance.
"The crew that performed the work were very professional…. All the downspouts were restored to their former state. I'm very pleased with the results and it was exactly as described to me by Sandy (of Complete Power Wash)." – Leonard T.
They are the pressure washing experts that know that mildew and other fungi can cause health risks. These risks include severe allergies, that can result in respiratory distress. Among the worst problems can be the triggering of an asthma attack in someone afflicted with the condition. For most, it is simply the need to get relief from an inhaler. Severe asthma cases can cause hospitalization or even death. It's not worth the risk.
In addition to health concerns, misdirected rain water can damage your home's structure. The fascia wood behind the gutters can rot. The house's exterior walls can be damaged. And, if the water continues to pool around the base of the house, the foundation can be compromised. Foundation damage can be VERY costly, because it compromises the integrity of the entire dwelling.
Complete Power Wash's techs will make sure the gutters are clean inside and out. Many homeowners are amazed by the house's transformation, since the gutters frame the home. And if your home is going on the market, you can bet prospective buyers will notice. It could be the difference in the first impression from the curb. Buyers want to "wowed" by what they see. As a seller, you want them to fall in love with your house.
For more information on the importance of clean gutters, click here for an article from another trusted source.
Contact Us for Pressure Washing & Gutter Cleaning
Call us at 301.842.2290 or contact us online today for a free estimate.
Complete Power Wash pressure washing techs are experts in house washing, roof cleaning and deck and patio cleaning. They are also trained in commercial and industrial power washing.  Our techs use the softwash technique of gentle water pressure and environmentally-friendly detergents. Softwash is the safest way to pressure wash.
Click here. to see a gallery of our pressure washing work in the greater Hagerstown, MD area. We also serve most of Frederick County, MD. Our pros clean residences and businesses in nearby Greencastle, PA and Martinsburg, WV.