We love the remarkable contrast of seeing homes before pressure washing and after. See for yourself in these images.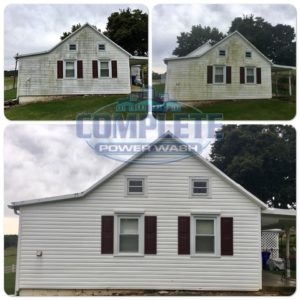 The pressure washing industry is quite challenging at times, but ALWAYS satisfying when you see the results on the surfaces and on our customers' faces. For this reason, we have collected a large portfolio of "Before & After" images that tell the story of some of the jobs our power washing technicians have completed in the Tri-State area of Maryland, Pennsylvania and West Virginia.
The pictures here are true pictorial testimonials of our pressure washing clients, who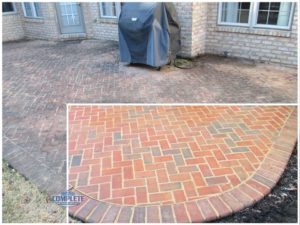 usually leave in the morning from a dirty, tired-looking house and return to a sparkling place they can once again call home with a sense of pride, that has at least been tarnished. Sometimes it is a clean roof and other times it is clean siding, concrete, fencing, etc… Whatever it is, the response is usually the same: "Wow!"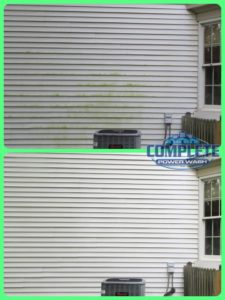 To view even more some samples of Complete Power Wash's work, click here. Our techs are among the best, using the softwash technique to clean without damaging surfaces.
Our techs do residential, commercial and industrial pressure washing throughout the Tri-State area. This area includes (in Maryland) Clear Spring, Hagerstown, Hancock, Funkstown, Williamsport, Smithsburg, Sharpsburg Myersville, Brunswick, Boonsboro, Keedysville, Middletown, and Burkittsville. In West Virginia we serve Falling Waters, Marlowe, Martinsburg, Berkeley Springs, Hedgesville and Shepherdstown. In Pennsylvania, we serve State Line, Greencastle and Waynesboro residents and businesses.
Contact Us today to schedule an appointment or consultation.