As the summer season winds down, the school year begins in the greater Hagerstown, MD area.
As summer ends, the back-to-school rush is starting, well at least in a strange kind of way, because of COVID-19. Nonetheless, it will be a busier season with restrictions easing; classroom and online learning beginning; and the general business of fall in the Tri-state area. Parents are ready for a break, but probably not ready for fewer daylight hours and the coming end of the calendar year. We at Complete Power Wash in Hagerstown want to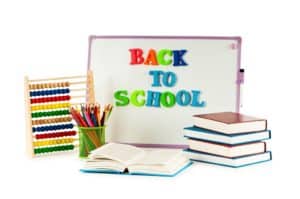 try and help. First, here are some links to planning for a return to school and having fun in fall, while still playing it safe.
Secondly, we want to remind you of our cleaning services, because we know you don't need one more thing on your to-do list. Contact us now and schedule a pressure washing appointment with us, a professional cleaning company. We pressure wash — or softwash — just about anything around the house. And, we do it the right way, because no one wants damage or a worse looking house after paying for an exterior cleaning. Our techs are experts in the softwash technique, which is the combination of gentle water pressure and the right cleaning detergents. These environmentally-friendly cleaning agents will not harm your home or your landscaping.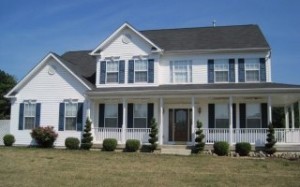 Just imagine how beautiful your house will look after the Complete Power Wash techs finish cleaning. Many homeowners don't even realize how dull their house looks, until they see the finished product. Many homeowners never pay close attention, because mold, mildew and grime build up gradually. They can't even see the change from when they moved in years ago. Most of our customers love to walk across the street and look back in amazement after the cleaning.
Our Pressure Washing Services
Complete Power Wash techs are the local pressure washing experts in house washing, roof cleaning and deck and patio cleaning.
You will love the way your home looks after our house washing service. We will get to the root of the problems that cause the growth in the first place. That problem is usually a moisture-induced fungus that needs to be neutralized through such a cleaning process. The result is a clean house now and  one that will stay cleaner for much longer than a typical cleaning.
Our roof cleaning service is very popular, especially for those that don't like heights. If trees provide shade for your roof, they likely provide dirt and grime on the shingles. We will softwash the roofing materials to bring back beauty and life, which can be shortened by the elements breaking down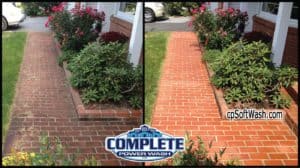 shingles. The damaging black streaks will be gone. The uneven coloring will be even again. And yes, you will think you just paid for a new roof – at a fraction of the cost.
Once the home's siding and roof are clean, hardscape surfaces, which didn't look so bad at first, now show their ugly side. We can safely pressure wash sidewalks, driveways, patios, porches, decks, fences and just about anything else that can get dirty. And if your property is marred by graffiti, we can remove it. Studies show that removing such destruction, leads to fewer incidents.
Complete Power Wash for Your Pressure Washing Needs
To contact us about a free pressure washing estimate, call 301-842-2290 or to contact us online, just click here. Our email address is sandy@completepowerwash.com. Click here to see a gallery of our pressure washing work or to read reviews. 
Complete Power Wash pressure washes homes and businesses throughout the Tri-State area of Maryland, West Virginia and Pennsylvania. This includes (in Maryland) Clear Spring, Hagerstown, Hancock, Funkstown, Williamsport, Smithsburg, Sharpsburg, Myersville, Brunswick, Boonsboro, Keedysville, Middletown, and Burkittsville. In West Virginia we serve the communities of Falling Waters, Marlowe, Martinsburg, Berkeley Springs, Hedgesville and Shepherdstown. In Pennsylvania, we serve State Line, Greencastle and Waynesboro residents and businesses.