Pressure Washing Falling Waters, WV
Pressure Washing in Falling Waters
Power washing is a great way to keep properties in great shape and acts as a form of preventative maintenance. While cleaning is important for the entire property, it is particularly important for the roof.
Dirt on the roof leads to rotting and decay with the result that the life expectancy of the roof is greatly diminished. When you compare the cost of replacing a roof with the cost of regular roof cleaning, it is easy to appreciate the importance, and cost, of the latter.
The Complete Power Wash techs can inspect your roof and your entire Falling Waters home, to make sure the elements aren't doing long-tern damage to your siding, concrete, fencing, gutters, etc…
Know the Rules
While it is important to keep both residential and commercial buildings properly cleaned, it is the responsibility of the Falling Waters property owner to make sure that EPA guidelines are followed. The Environmental Protection Agency (EPA) does not take kindly to environmental degradation and the fines it issues tend to be rather hefty.
Some property owners usually think that fines from the EPA are borne by the cleaning company because, they reason, it is the cleaning professional who knows what chemicals to use. Unfortunately, the EPA puts the responsibility squarely on the shoulders of the property owner. Before hiring a Falling Waters pressure washing company, the property owner needs to confirm that the company knows about green cleaning.
What the Property Owner Needs to Ask the Cleaning Company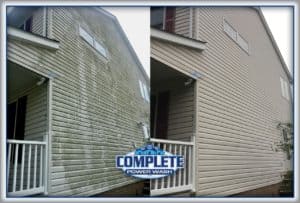 Now that you know that the EPA will hold you responsible for harm to the environment, how do you make sure that the company you hire will not cause such a problem?
To be safe, the first thing you need to ask your pressure washing company is whether they will be using certain cleaning agents. Most pressure washing jobs use a cleaning solution that might contain one or several chemicals. However, certain cleaning jobs might only require water. Should some chemical be used, the property owner needs to know what chemical that is and whether it is biodegradable.
Insurance Coverage
The EPA is particularly concerned about the wastewater generated during cleaning. The EPA requires that wastewater be handled in such a way that it does not pollute the environment. Some pressure washing companies do not have the ability to deal with wastewater. Before hiring a company, you should confirm that it has measures in place to safely handle wastewater runoff.
A competent power washing company usually collects and re-uses all the wastewater that is generated, which means that no wastewater goes to harm the environment. The act of collecting and re-using also means that very little water is used. Should the Falling Waters company be unable to collect and re-use the wastewater generated, it can still keep the property owner safe from the wrath of the EPA by making sure that such water is disposed of according to government guidelines.
Making sure that EPA directions are followed might therefore prove tricky for Falling Waters property owners who decide to perform the cleaning jobs on their own. Starting with the choice of cleaning agents, non-professional cleaners might not know the chemicals that are environmentally-friendly. An even bigger challenge will arise with the handling of wastewater. Lacking both appropriate equipment and expertise, most DIY cleaners will almost inevitably end up contaminating the environment.
There is usually a lot of information a property owner can gather about a cleaning company before signing an agreement. One of the things you need to find out is whether the pressure washing company you intend to hire, or its clients, has ever been fined by the EPA.
Whether you hire a power washing company from Falling Waters or clean the property yourself, there is always the risk of breaking an EPA statute. To safeguard yourself, ask the cleaning company you hire to confirm that it has taken adequate insurance to cover you in case something goes wrong. Moreover, accidents have been known to happen during power washing and the people carrying out the job could get injured working on your property. As a property owner, you need to confirm that the cleaning company you hire has taken workers compensation coverage for its employees.
Customer Testimonial
"Our dirty roof was gross! It ruined the whole exterior appearance of our home. Immediately after you treated it, the roof looked like new… nice and clean! Thanks for doing such a good job." – Sue M.
Click on these links to read my pressure washing testimonials and to see pictures of our work.
Complete Power Wash can clean all of the surfaces around your home, including:
Roof

Sidewalk

Decking, both wood and composite

House and siding

Concrete

And more!
Your home has it. We can clean it.
What We Do
We Clean, Pressure Wash, Restore & Maintain: Buildings I Home Exteriors | Vinyl Siding | Brick | Dryvit | Stucco | Stone | Roofs | Decks | Concrete Cleaning | Aluminum Siding | Soffit | Fascia | Gutter & Downspout | Mold Removal | Restaurants | Drive Thru's | Dumpster Pads | Parking areas | Driveways | Parking Lots | Warehouses | Loading Docks | New Construction | Heavy Equipment | Industrial Equipment | Factories | Condominiums | Townhouses | Apartments | Common Areas | Pool Houses | Clubhouses
Our Service Area
Big Pool MD 21711 | Boonsboro MD 21713 | Brownsville MD 21715 | Cascade MD 21719 | Cavetown MD 21720 | Chewsville MD 21721 | Clear Spring MD 21722 | Fairplay MD 21733 | Funkstown MD21734 | Gapland MD 21779 | Hagerstown MD 21740 | Hagerstown MD 21742 | Hancock MD 21750 | Keedysville MD 21756 | Maugansville MD 21767 | Rohrersville MD 21779 | St. James MD 21781 | Sharpsburg MD 21782 | Smithsburg MD 21783 | Williamsport MD 21795 | Falling Waters WV 25419 | Mercersburg PA 17236 | Greencastle PA 17225 | State Line PA 17263
What Can We Power Wash Around Your Falling Waters, WV Home?
Why is an estimate needed? Every job is unique. In order to provide accurate pricing, it's necessary to review your specific needs, so please provide as much detail as you can. We look forward to speaking with you!